McLaren. Bruce. New Zealand. Formula 1. Prost. Senna. Gordon Murray. Adrian Newey. Ron Dennis. The BMW V12 engined F1 road car… just some of the names and images that pop up in my head as I walk up to the door of the mustard yellow 720S Spider. So much history, so much brilliance. What a company. And doesn't the 720S look great too? Perched like an angry hornet, with its big insect eyes, long thorax and upturned doors that look like folded wings, ready to fly.
Get In, Get Moving
Time to get going. While the front hinged 'butterfly' doors open with plenty of drama, getting in is not seamless. It's tighter here than I expect, and then many of the controls are unfamiliar. Also, while the cabin is well built, it doesn't quite have the same high-quality vibe as rivals. What I also notice is that the driving position is offset to the left to avoid the front right wheel. In fact, it's so offset, straight ahead of me sits the accelerator, not the brake! The brake pedal is off to the left, where you'd expect a clutch. Think about that for a minute. Have to get used to it.
Then, as I raise the nose and set off across some speed breakers that pose no real challenge, I notice that the brakes are underserved. This is especially true at low speeds, where you need to give the pedal a good push to get the brakes to bite. In fact, compared to rivals, like say a Ferrari F8 or a Lamborghini Huracán, the McLaren 720S as a whole has an extremely 'damped feel'. At low speeds, not only do you need to hit the brakes harder than usual, even the hydraulic steering feels a bit lethargic. A sharp incisive Ferrari set-up this clearly isn't, but that's not necessarily a bad thing. The 720S has been optimised to deliver a fantastic driving experience at higher speed.
Much higher speeds. And boy, oh boy, does the 720S make these speeds accessible. Initially, I put my foot on the throttle, in a half-hearted sort of exploratory manner, and the 720S, without hesitation or delay, rips right off the blocks, going straight to warp speed. The transition from barely moving to transonic speed is so quick, and the hit of performance so strong, I can't help but laugh out loud involuntarily.
Integrated rear spoiler pops out from neat-looking rear.
The sledgehammer-like thrust is also accompanied by something a bit alien in this class… an almost total lack of drama. No fuss, no rear-wheel-drive histrionics… put your foot down and you take off… like you are on a steam catapult, Whoooshh… the twin turbo V8 feeling like it's tugging hard, running 'on cam'. Getting such ready access to all this performance is just delicious.
Jump To Light Speed
Then, as I go harder on the gas, it seems to unlock a new level of performance. The 720S throws my head back, the tachometer whips to the redline, and then, as one gear click-snaps to the next with a WAAAP-WAP, the performance gets stronger with every change. This is one seriously quick car.
Air gets channelled around cabin, pretty clever.
Put your foot down at around 30kph and this is past 100kph in under TWO seconds! 0-100kph, in fact, takes a claimed 2.9 seconds. And 0-200kph just 7.9 seconds. McLaren even quotes a 0-300kph time – 22.4 seconds! Talk about being ballistically inclined. The 720S with an insane power-to-weight ratio of 540hp per ton is even quicker than the legendary McLaren F1 of the nineties, even though the latter has a betterpower-to-weight ratio of 560hp per ton: down to the extra torque of the turbo engine and the quicker gearbox.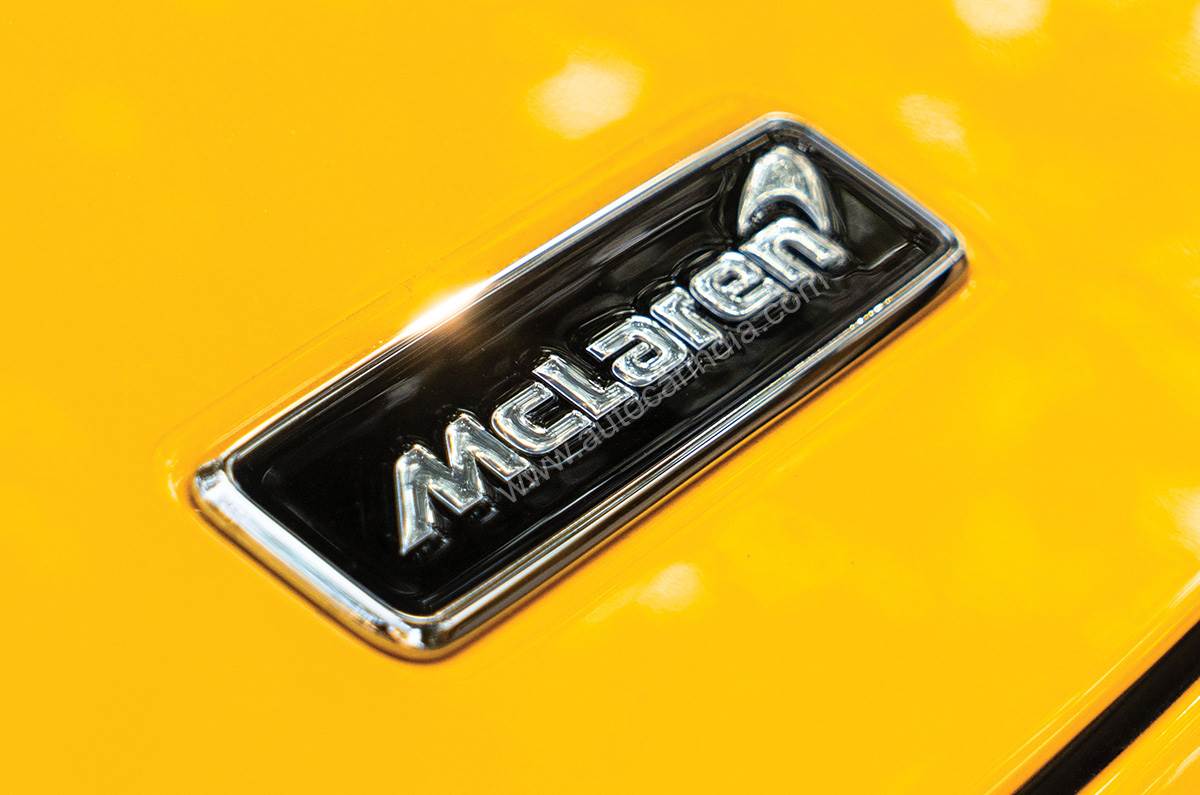 If you are a Formula 1 fan, this logo will be familiar.
What I also love is that when you begin to drive it harder, the chassis, steering and brakes, all seem to wake up. The added weight and connect of the hydraulic steering now feels just great, the car feels more alive and reactive; and then, when you get hard on the brakes, the pedal delivers plenty of confidence and stopping power. What meshes nicely with the rest of the experience is that the gearbox is wonderfully integrated, shifting quicker the higher up the rev range you go. And the 720S also clearly has the rear axle to exploit it. We'll need a longer drive on more appropriate roads to know just how good it is, especially when compared to its rivals, but even here it's easy to spot its huge ability and focus.
You sit towards the centre of the car and there's a single-seater-like purity to the driving position here.
The McLaren even rides comfortably on our roads. It is a supercar, so no, it won't ride like a luxury sedan and it will thud through deep and sharp-edged potholes. But the 720S is also surprisingly comfortable and useable over regular bumps and takes the edge off some of the worst bits, as if someone has thrown a rug over them; quite nice.
Transparent buttresses; practical and cool.
The one area in which 720S falls short is noise. While the twin-turbo V8 has a distinctive exhaust note, it's a bit flat and one-dimensional. And while you can have the rear glass screen pulled down to fill the interior with engine noise, the exhaust note doesn't quite encourage you to do this. Aftermarket exhaust systems will sound better.
Weights And Measures
What makes the 720S Spider unique is that the carbon-fibre tub weighs only 73kg, giving it a huge advantage over rivals. McLaren's carbon-fibre Monocage II structure has been adapted for this open-top Spider version, and now, with the central spa removed, it's called the Monocage II-S. Almost no strengthening material is added to make the convertible stiffer, but roof mechanism has added weight. Still, the 720S Spider weighs only 1,332kg dry… just 49kg heavier than the coupé. In addition, the roof slides back and opens and closes in just 11sec, and to aid rear visibility, the car gets transparent rear buttresses that flank the engine bay.
With the roof up, you can hardly tell if this is a flip top or convertible. Roof folds in one easy step back; takes just 11 seconds.
Providing motive power is a 720hp, 4.0-litre, twin-turbocharged V8 petrol engine made with component maker Ricardo, also from the UK. This gives it a very strong power-to-weight ratio of 540hp per ton. Highlights of the engine include extremely light impellers on the turbo that allow for a rapid ramp up in turbine speed, a water-cooled intercooler with its own low-temperature radiator to keep things cool,and hydraulically interlinked dampers that make anti-roll bars redundant. The latter are very stiff when it comes to roll, but allows for individual wheel movement when, for example, you hit a pothole. Increase the pressure in the Citroën DS-like system and you can even stiffen anti-roll properties, which the 720S does in 'Sport' mode.
Eye-Opener
Our short drive in the 720S Spider, the first McLaren car officially imported into India, is nothing less than an eye-opener. The accessible hypercar-like performance is what gets you first. It has huge grip, the rear axle can put all 720hp down in a fuss-free manner, and the stiff carbon-fibre tub and hydraulic steering help deliver a driving experience that makes you seek out challenging corners and fun stretches of road.
What makes it even more appealing is that it's quite useable in our conditions. The lift function makes it easy to climb over speed breakers, the interlinked suspension and carbon-fibre tub help it ride well for a car of this startling performance, and then, since it isn't hypersensitive to bad roads, you can use more of that performance more of the time.
The cabin isn't as comfy or as well built as other cars in its class, it's more expensive than rivals, with a starting price of Rs 5.67 crore, and some will seek out a more emotional driving experience. Still, has McLaren found a place for itself in the pantheon of supercars? Absolutely. But to be relevant in India they have to do well in our conditions. Fingers crossed!
Mclaren's High-Tech Suspension
The 720S Spider uses Proactive Chassis Control (PCC II). Basically, a system of interlinked hydraulic dampers, where all four work together and share hydraulic fluid to help reduce body roll (there are no anti-roll bars here). The interlinked system also reduces damping forces when only one wheel goes through a pothole. The system is run off a high-speed controller and multiple sensors. These include a four-wheel accelerometer, two pressure sensors per damper and multiple body sensors that alter damping forces in merely two milliseconds.
While there are three drive modes – Comfort, Sport and Track – McLaren has also introduced a Variable Drift Control system or VDC where you can adjust the levels of Traction Control and Electronic Stability Control via a slider on the dash.